NH Healthy Families in the Community
At NH Healthy Families, what matters to you, matters to us. We are compassionate, caring and committed not only to helping our members get the care they need when they need it, but also by being a part of the communities we live in. We are proud to support our community partners whether it's our employees volunteering their time in the NH Food Bank production garden or through donating a loading dock lift to New Horizons to make it easy for their volunteers to unload the needed food and clothing they provide to the community every day. NH Healthy Families is committed to transforming the health of the communities we serve, one person at a time.
Vision Van
NH Healthy Families Fulfills Critical Need For Vision Services Across New Hampshire
Company provided hundreds of free vision screenings and prescription glasses to residents
November 6, 2017 (Bedford, NH) – NH Healthy Families fulfilled a critical need in New Hampshire last week when the company screened almost 400 New Hampshire residents for vision impairment challenges at no cost. The initiative was part of NH Healthy Families' mobile vision tour, during which the organization's Vision Van provided free vision screenings and donated 285 pairs of prescription glasses and 199 pairs of readers to residents in need.
Studies show that about 2.5 billion people see poorly but don't have corrected vision, yet 80 percent of those vision problems are preventable. Eye health can be especially problematic for people without health insurance, as they often lack the resources to correct eye issues before they potentially worsen.
Through its Ambetter and Medicaid products, NH Healthy Families is committed to making health care accessible, and the mobile vision tour represented an extension of that mission. Between Oct. 23 and 27, residents across New Hampshire received free vision screenings, compliments of NH Healthy Families. The screenings checked for nearsightedness, farsightedness, and other vision errors. The tour visited 10 communities across New Hampshire from Manchester to Laconia and Dover to Peterborough.
"NH Healthy Families cares about the health of the individuals that make up our communities. We understand that being able to see the world through 'healthy eyes' is important and can effect overall well-being," said Jenn Weigand, president and CEO, NH Healthy Families. "This is why we are proud to offer our mobile vision van services free of charge to anyone in need without regards to insurance or ability to pay. We are committed to keeping our communities healthy, one member of the community at a time."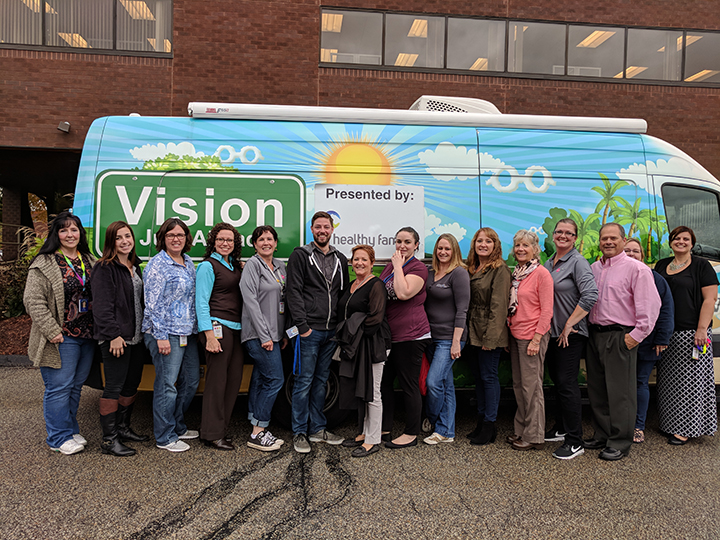 Chris Herren
Chris Herren brings message of recovery and prevention to Manchester Central High School Friday, October 6, 2017
Manchester, NH October 6, 2017 -- NH Healthy Families sponsored Chris Herren to appear at Manchester Central High School today to share his inspirational and cautionary tale of addiction, loss, and recovery. Mr. Herren, who played for the Denver Nuggets and his hometown Boston Celtics, shared his passionate story of near-fatal substance abuse and his ongoing recovery in the hope of reaching one person and saving a life. Today, he was able to reach nearly 2,000 community members including students and faculty at Manchester Central High School and special guests including city and state elected leaders and public health and safety officials.
He spoke to the packed auditorium full of high school students wearing purple T-Shirts from the Herren Project's Project Purple Campaign, courtesy of NH Healthy Families. Chris Herren founded the Herren Project and a national anti-substance abuse campaign, Project Purple, to help him reach that one person who needs to hear his story as well as to support youth involved in prevention. Project Purple was launched to break the stigma of addiction, bring awareness of the dangers of substance abuse, and shed light on effective treatment practices.
It was a powerful community event. Central High School's Life of an Athlete program participants and other student leaders were on hand to help guests and put together individual packets for each student, including the Project Purple T-shirts.
NH Healthy Families Plan President and CEO Jennifer Weigand said that the health plan was proud to partner with Herren and help to spread his powerful message of hope and recovery to so many in Manchester. She added, "At NH Healthy Families we are committed to working with our members, provider partners, public health and safety officials, elected leaders and members of the recovery community to stem the tide of the substance abuse epidemic that our state is confronting. As a health plan serving members in both the Medicaid and commercial spaces, we are dedicated to developing innovative initiatives to help combat this crisis and ensure that our members have access to the critical treatment and recovery services that they need."
Chris Herren has been drug free since August 1, 2008. He has refocused his life to put his sobriety and family above all else while helping others achieve the same through his work and inspiring story. More information about Mr. Herren's work can be found at www.theherrenproject.com.
New Horizons for NH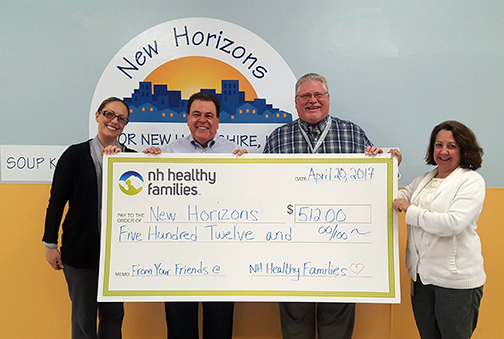 April 20, 2017… Members of NH Healthy Families presented a check for $512.00 to New Horizons for NH in Manchester, NH. New Horizons for NH offers multiple services to Manchester's homeless population.
Merrimack YMCA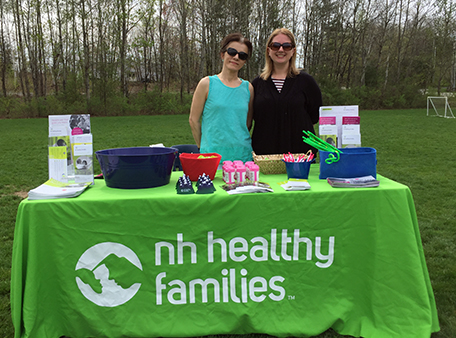 NH Healthy Families staff Delminda Cartier and Jennifer Glaude provide a resouce table at the Merrimack YMCA's Healthy Kids Day on Saturday April 29, 2017.
Lil Iguana's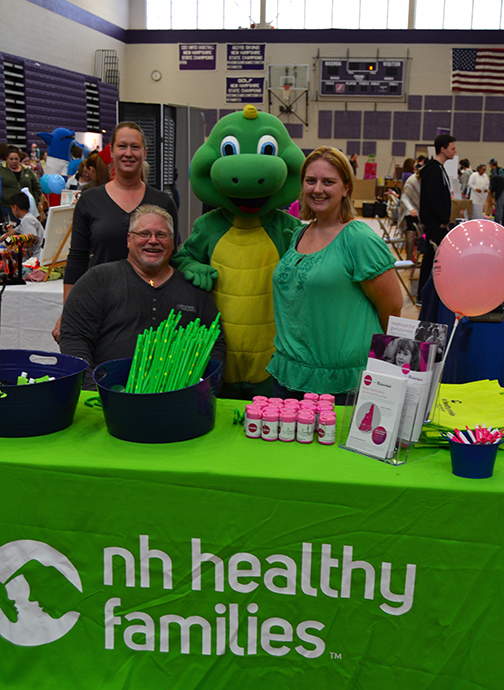 NH Healthy Family Staff Nancy Collins, Scott Wellman, and Jennifer Glaude provide a resource table at the Lil Iguana's Family Fun Day in October 2016.
New Horizons for NH
Manchester Monarchs
Granite State Independent Living
Council for Youths with Chronic Conditions 
Crotched Mountain
Bi-State Primary Care Association
Brain Injury Association of New Hampshire
Coalition of Caring
Ujima Collective
Mental Health Center of Greater Manchester
New Hampshire Hospital Association
Community Crossroads
Goodwin Community Health
JDRF
MGMA
Nackey S. Loeb School of Communications, Inc
NH Legislative office
Lil Iguanas
Manchester Chamber of Commerce
The Moore Center
AAHAM
American Cancer Society, Inc
Belmont Elementary
City Year NH
Dartmouth-Hitchcock Health
Gateways community Services
Genesis Behavioral Health
Make a Wish NH
NH Long Term Care Foundation
One Sky Community Services
Raymond Coalition for Youth
The Dupont Group & White Birch Communications Group
Tilton NH Recovery Coach Academy 
Lakes Region Community Services
Mama & Baby Expo
NH Provider Association
St Joseph Community Services
The Front Door Agency
ABLE NH
Friends of ServiceLink
Manchester Community Health Center
Monadnock Developmental Services
New Hampshire Children's Trust
New Hampshire Oral Health Coalition
NH Council for Developmental Disabilities
NH Healthy Homes
North Country Health Consortium, Inc.
Junior Service League
Southern N.H. HIV/AIDS Task Force
UNH Institute on Disability
Upper Room
Bureau of Developmental Services
Community Campus
Community Resource Network
Greater Manchester Chamber of Commerce
DCYF
Cigna
Community Action Partnership-Strafford County
Department of Health and Human Services
ETP at Granite State College
Families First 
Greater Nashua Project Homeless
HarborCare Health & Wellness Center
Harbor Homes 
Head Start
Home Care Association of New Hampshire
Leadership Greater Nashua Dare to Lead
Member Conections
Nashua Elementary School
Nashua Public Health
New England Council
NH Children's Behavioral Health Collaborative
NH Division of Public Health Services
Parker Varney School
Pratt House
Riverbend CMHC
Safe Kids New Hampshire
"Back to School" Committee - Greater Nashua 
Whole Village of Grafton County
For more information about NH Healthy Families' event sponsorship, please contact Claudia Brooks, Media and Event Planner, NH Healthy Families.
Email: Claudia.M.Brooks@centene.com
Office: 1-603-263-7126